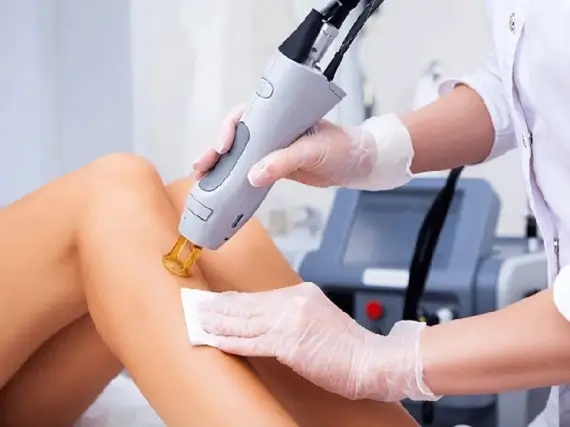 During the vein reduction training, students will be provided with classroom theory as well as hands-on clinical practice on small vessel/telangiectasia reduction. In addition, students will learn about isolated pigmented lesions' removal, a service that is in-high demand at medical spas.
Vein reduction training will lead our students to master this type of procedure which is an essential as well as a valuable service in spas and clinics.
Since it is one of the most leading treatments in the cosmetic industry, it is an additional yet necessary service to have at any Medispa.
Types of Therapies Performed
At Avante Laser Training Institute, The Woodlands students will learn the difference between two main therapies regarding spider veins and pigmented lesions.
Spider veins are small blood vessels that are located near the surface of the skin. As they become dilated, they become more visible and look like a single thread, a cluster or a spiderweb; hence the name spider veins.
Spider veins are not a threat or symptom of unhealthy circulation, however they can cause discoloration of the skin among other cosmetic issues. With the help of laser therapy, dilation can be reversed leading to the minimization of veins' appearance.
Meanwhile pigmented lesions are dark areas as a result of high concentration of melanin in the skin. Usually, they are located in the dermal-epidermal junction which means that they are superficial.
Since these pigmented lesions are a result of sun exposure, they are known as solar spots, age spots, freckles and solar lentigines. With proper laser treatments, these spots can be reduced.
Other Skin Treatments
One of the common skin conditions is skin tags. Skin tags are mainly small pieces of skin or flesh-colored tissues that project from the surrounding skin via a small stalk.
Skin tags are usually spotted in specific locations such as the lower part of the neck, underarms, eyelids, groin folds and under breasts. No matter the size, shape or appearance of skin tags, all of them are treated with laser therapy.
Another common skin condition is sebaceous hyperplasia. It is found mostly in older adults and it is a sort of benign papule that is often located on the face; mainly around the nose and forehead.
When the sebaceous gland produces too much oil; it manifests in this specific skin condition.
Why Choose Us?
At Avante Laser Training Institute, our priority is our students! That is why we have built our training programs, scheduled classroom and online training modules at the convenience of our students and their learning pace. Our small class size philosophy helps us make sure our students get the one-on-one attention they deserve while being tutored by the experts who have many years of experience in the field.
Not only do we provide the most comprehensive aesthetics education in The Woodlands, Greater Houston, Dallas, San Antonio, McAllen, Laredo, Austin, Lake Charles, Baton Rouge and New Orleans but we also make sure that any student who attends our class has the opportunity to learn and grow; as we are aware that life can be busy and schedules can be tight.
As each of our courses is self-contained and entirely independent, we offer our students the opportunity to select the courses they need, attend them when they can; schedule in-person training sessions and complete their courses on their own terms.
Many of our general courses are oriented towards medical aestheticians, health and beauty enthusiasts and cosmetologists who understand the need for education in laser treatments such as IPL photofacials, laser hair removal and cellulite reduction but might not know how to get certified. With courses tailored to people of all backgrounds and educational levels, we, Avante Laser Training Institute, The Woodlands, can provide a full introduction into this fast-growing and multi-billionaire industry.
Join Avante Laser Training Institute
Ready to Widen Your Horizon?
Join Avante Laser Training Institute and get the ability to join this multi-billionaire aesthetic industry at your own pace. Avante Laser Training Institute, The Woodlands, offers training courses for both newcomers and medical aestheticians who are looking for a change or advancement in their careers.
The aesthetic industry generates billions of dollars in revenue every year and its demand for skilled professionals is growing. Be one of them!
We, Avante Laser Training Institute in the Southwest of the United States are always ready to accompany you on this lifechanging journey and give you all the help you need whether you're in The Woodlands, Houston, Dallas, San Antonio, McAllen, Laredo, Austin, Lake Charles, Baton Rouge, New Orleans, or beyond!